Maria is from 1968 and works as a case manager in 3F – the largest trade union and unemployment fund in Denmark. Patrick is from 1966 and works as an electrical technician in Xsys Printing Solutions, a fabric that produces printing inc..
We have known each other since 1995 where we met as friends. However Patrick "wanted" more and luckily he managed to persuade Maria. On Patrick's birthday (24th of December 1995) we got engaged. Of course we have had our crisis during our relationship, but we know that we will be together for the rest of our lives – we have found our soulmate ;-))
Our love for each other soon resulted in a beautiful (and planned) child. On the 23rd of May 1996, our daughter Camilla was born and she surely was a quite a gift: She weighted 5400 gram and was 58 cm long (the size of a 3 month old baby). Unfortunately, Camilla and Maria had to stay at the hospital a bit longer than planned as there were many complications. But on the day that we had known each other for a year, we brought our daughter home and we had suddenly become a family.
When you attend to forget important dates, the only right thing for us to do was to get married on Maria's birthday (2nd of July 1996). That way we can look inside our wedding ring to remember the date and yearJ We were married at the local city hall only few houses away. After the ceremony we celebrated the wedding at our house and it was a beautiful day with a lot of happy memories.
We live in a small village, about 45 kilometres from Copenhagen. A lot of the houses have a history (fx. We live in the house that used to belong to the local tailor). We all know each other and we have had a lot of fun with our neighbours welcoming us to "their village" (as they did not know that Maria is born in this town and grew up here before she moved to Copenhagen ;-))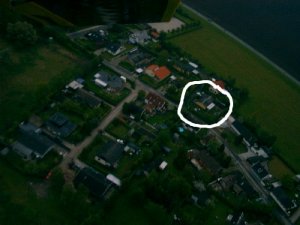 Our house is not something to brag about. It is not especially big or nice. But it is like us "what you see is what you get" and that is why we feel so comfortable here. We can cuttle up after a long day at work. And it manages children, dogs and cats racing through the house without us worrying about floors getting ugly (as they already are :-)) But even though the house is not very pretty it is a fine solid little house that will surely survive us without great costs.
Finally, are garden and our pond make us totally forget about our house. As soon as the spring is here we use all our time outside until the cold weather in the autumn forces us inside again. That is why we have not put much energy and effort in our house. However, in 2003 we managed to paint our house in a calm yellow colour unlike the "fanta-colour" it had when we bought it. Hopefully more project indoor will follow sometime during the next years ;-))
Our neighbours are a fine mix of people who have lived in the town for their whole life and people who have just recently moved here. In spite of all our totally crazy project, they have never made a comment (at least not to our face ;-)). But they have always been ready with help and advice whenever we needed it, and that is quite nice when you buy a house for the very first time like we did.
We have a dog named Sascha and two cats named Eva and Kiara. During the years we have also had chickens, rabbits, aquarium, mice and lot of different animals as we are totally crazy about most of them (however Maria put her foot down as Patrick and Camilla talked about getting a snake as pet)! We have always been very strict about our animals. We think that they need lots of space, otherwise you should not have any at all. This is also the reason why Camilla has never had any birds, rabbits etc. indoor.

Sascha

Sascha

Eva

Eva
Kiara
As a result of all our crazy projects, we decided on "Tossehuset" when we designed our website. It is roughly translated into English as "The Crazy House" which suits us just fine: We are totally crazy about each other, our daughter, our animals, our house, garden and about our latest great hobby: Japanese Koi and garden pond ;-))