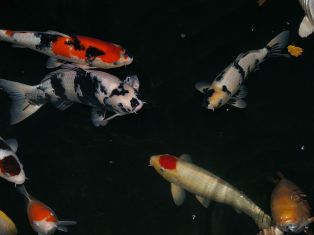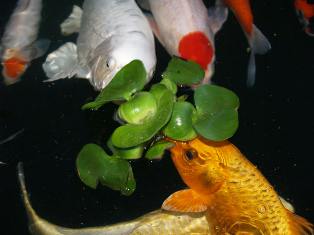 (Click on the smalle pics below to obtain the fully sized picture)
Our Current Pond built in 2008
Our Current Pond, built in 2008:
Since 2003 where we finished our first pond the way we thought would last, we have been consumed with ideas of the successor. Yep, it is nice to be koi kichi:-)
Though we had many ideas we did not realize them in 2004 because of our problems with the heron and the time spent to secure our pond.
Then in 2005 Maria broke her leg multiple places and had an involuntary holiday for about 5 months.
Actually it was quite fortunate that we didn't get started as we have had opportunity to learn more about what it take to build a koi pond and keep the koi you invest in properly.
However when we were ready in the spring 2007, we still had to wait a little longer as we now both suffered from injuries in our elbows because of working conditions.
Finally in july 2007 we created a temporary koi-hotel and started digging our new koi pond which we are very pleased with and hope will last our life-time.
Here are some pictures of the making of our pond with comments, hope you will enjoy them.
We are now filling the temporary swimmingpool with water in total 17.000 liters to test the strength of the welded joints.
When tested, we will mix the pond water with new an hook up Nexus 200 and also the new Cetus sieve (it should be arriving in Denmark soon)

There are tiles beneath the pool to secure the water level

Where's the ladder

Not much water coming out of a garden hose

5000 litres
Cetus Sieve has finally arrived in Denmark, so off it goes with our trailer to Superkoi to pick up the ordered two Cetus and it seems like the designers have thouroughly thought about the former problems with different types of Sieves before they created the Cetus Sieve.

The box is made for our trailer...

a glimse at the svimmer

down...

...and up

the strainer fits perfectly

The nutty professor has been here
Today one of our Cetus Sieves were hooked up with the swimmingpool. However as te pool has been filled with water for 14 days a lot of algae are now present. They need to be filtered before the koi enter the pool because no chemichals will enter the water this time.
The Cetus is connected via a 110 mm siphon. However such a pipe is too much for a curoius koi so we had to create an alternative bottom drain which needed to be installed under water, hence the very modern outfit
Here's a film of the Cetus in action, in our mind better than any other sieve.

Hot hot hot...

Where is the f...... pipe

The koi that are to be moved very soon

well...but it works..
Today we moved the koi into the temporary koi hotel. At the same time we took the annual picutures to the Danish Koi Show. It is always nice to follow the development of our koi and compare this year to previous years. We are getting help to dig out the pond next week and we know it wille be a race against nature as this fall does not seem to be as mild as last year. However if it goes wrong, we have our annex where we can make room if necessary
We have dug out to the new pond. It took a whole day and only when it was dark and they could no longer see anything, they had to stop. The reason it took so long was that we did not have room for a giant excavator in the area. So we had to have hold of one who could run around the hole and back out as he dug, as the plateau is not so large and there is a slope on one side, rear and fences on two sides and the house at the last. The soil was simultaneously run away into the kitchen garden, so it was not an easy tasket. Oh yes, and there was just a break mid-day when Maria thought "where are they"? But they were really just over at the neighbors who themselves have rented a small mini-dig and was driven into their own hole!
Lige nu ligner haven noget der er løgn, men det skal jo v ære skidt før det bliver godt. Så mangler du lidt god lerjord, kan det hentes gratis.
As for the rest of the digging work, it has been hard. We need to have a fairly accurate hole, because we mold bottom and edges of walls up. So there was much soil to be removed by hand and no one to do it besides Patrick. Fortunately we got help from one of Patrick's colleagues who faithfully dug along Patrick for 3 days. Thank you Thomas for your help and moral support (Lisbeth, it is not our fault if Thomas starts digging a koidam, he got a little hooked when he put his hands in the water and the koi sucked at his fingers)
Now it starts to resemble something and not just a hole, although the work occasionally have stood still due to the torrential rain. The foundation for the wall have been cast and the pipes have been laid, all made of PVC and being glued.

Below are some pictures of the process. We expect to end at approx. 30,000 liters.
We finished building the wall and last Saturday the liner was fitted into the pond. We ended up choosing a liner rather than glass fibers, polyurea, impermax and the like because we are still waiting to find some benefits from the products when compared to the liner. None of them provides our koi with a better environment and this being the most important thin for us, we did not throw our money into other solutions. However we need to point out that maybe it is because our pond is rectangular and so there will be no creases and therefore no places where sludge will pile up. However if we change our mind, we have build a wall behind the liner that we easy can coat if we want to in the future.
When the liner was folded out and prepared for the holw, we had no room in the garden, so we had to go to the municipality's lawn to do this. Back again Birgitte W and her husband Erik had arrived. Along with Patrick, Maria's Dad, and Wilhelm they struggled with the liner to place it right.

The following day, we were at it again, this time with help from Maria's Father. Then we had a slow period because of much rain not to mention that when we come home from work it is late and after dinner almost impossible to correct at black liner.
Our plan is now to move the koi this weekend, glue some pipes and make the last lead in of the pipes, but more about this later…

Ready for edpm

10x9 meter

Men at work...plus women too

The drain need to be glued

Everybody comment

Thanks for all the help
Finally we moved forward again with the finishing of the pond. All koi are now back in the pond, but there is nevertheless much to be done before we are finished. While it is certainly not the right time of the year to finish a new pond, it is a race against the cold and the gas meter!

After having filled 6,000 liters of fresh water in the pond, it was time warmed it up to the same temperature as the koihotel which was heated to 13 degrees constantly. For this purpose we made (Patrick) a simple boiler out of two barrels, a small barrel mounted inside of the big one, and then this was fired up with everything combustible, e.g. produces a pair of old folding chairs 1 degree and a pallet around 1.5 degree. So after a few hours, the 6,000 liters was warmed up to 13 degrees.
While we waited for the water to become hot enough, we glued the bottom drain and pipes and finished off with just 3 pcs of 45 degree bends per. string and we also finished the 6 pipes back to the pond.

Then it was "just" to pump all the water from the koihotel into the pond and move the fish.
The filter was also moved temporarily to the pond until the filter house is finished, we are planning on keeping 13 degrees the next few days and then begin to decrease slowly to 10 degrees
Below some pictures from this Sunday and some evening pictures from a day where it has been raining cats and dogs.
Our first pond, built in 2003:
We created our first pond in 2003 and did all the digging by hand!
All together the pond contains 11.500 litres of water of which 1.000 liters are filtered in a filter that we have constructed ourselves.
We can't recommend this solution as the filter doesn't work efficiently enough and at the same time cleaning and maintenance is difficult. Consequently we bought a NEXUS filter which until 2006 have worked superb!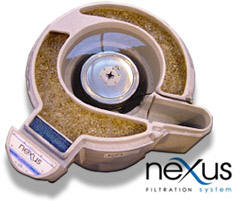 Now the pond was ready and filled with water…just waiting for some fish!
We then bought both Israeli and Chinese Koi - the fact that they look ever so pretty being the only reason. All we wanted was something nice to look at: easy pretty pets, but on the following day the Koi let us feed them by hand and we were hooked so to speak ;-)) Below is pictures of our first Israeli Koi that we very small but nevertheless tame:
We spent the long winter months of 2003 surfing on the Internet, studying ponds and getting to know much more about Koi. Japanese Koi carp in particular too our fancy: their colours being so clear and defined in contrast to the Chinese' and Israeli Koi more subtle and more dull colouring.
2004:
As spring of 2004 arrived we therefore decided to sell our stock and then only invest in Japanese Koi carp instead. On the first evening in their new home our Koi came to us and sucked our fingers. We totally lost our hearts to these gracious and tame creatures. Here are som pictures of some of our first Japaneese Koi:
Unfortunately we are not the only ones who have a keen eye on our fish. We soon had the first of many visits from a heron. After first spotting the heron we put up a surveillance camera in the garden. Watching the recorded file we just couldn't believe what we saw: In spite of two electric fences, one at the height of 10 centimetres, and on at 20 centimetres as well as fishing line set at the heights of 40 and 60 centimetres, the intruder manage to injure all our Koi carp and eat our little Budo-Koromo. The future looked bleak but after having received treatment most of our Koi are on the mend, happily.
Heron-movie1 Heron-movie2 Heron-movie3 Heron-movie4
Thanks to the surveillance camera we have a pretty detailed picture of how the rascal heron works and how intelligent they really are.. We now know that he displays much arrogance as he calmly picks at our fish despite all our efforts to avoid him attacking.
Consequently we built this total secure cover:
We also planted around the area inspired by Japaneese Gardens:
2005:
Many don't understand what makes us invest so much time, effort and money on something like fish but that usually falls into place for people when they sit at the edge of the pond letting their hand drop into the water to touch our Koi then they begin to understand why Japanese Koi have become our greatest hobby ;-)). Many koi have been replaced in these years during the learing process of what to look for and as the interest in buying specific variants and from a specific breeder arose. You can see our current stock under the menu: "Koi", below is just at few examples